Maintenance and repair
At Marcel Vermeulen you always have a lifelong service on your purchase. Your jewelery will be polished, cleaned and resized free of charge for a lifetime. But of course you can also take the necessary measures at home to keep your jewelery sparkling. 
Since gold is a natural element, it can be affected by harsh chemicals such as chlorine or other cleaning agents. We therefore recommend that you take off your jewelry when using these products to prevent everyday wear and tear and to maintain the shine. 
If you want to clean your gold jewelery at home, we always recommend Hagerty Jewel Clean.
How do you use the Hagerty Jewel Clean?
1. You place your jewelery in the basket of the Jewel Clean.
2. Let it act for 2 minutes.
3. Polish the jewelry with the supplied brush.
4. Rinse with lukewarm water.
5. Finally, dry the jewelry with a soft cloth. 
Hagerty Jewel Clean is available in our store and suitable for white, rose and yellow gold jewelery with (and without) precious stones (diamonds, sapphires and rubies). 
If you want to clean your silver (or silver-plated) jewelry, we advise Hagerty Silver Clean. Hagerty has the Fine Stones Clean develops a specific formula that is suitable for safely cleaning jewelry with soft stones in your jewelry.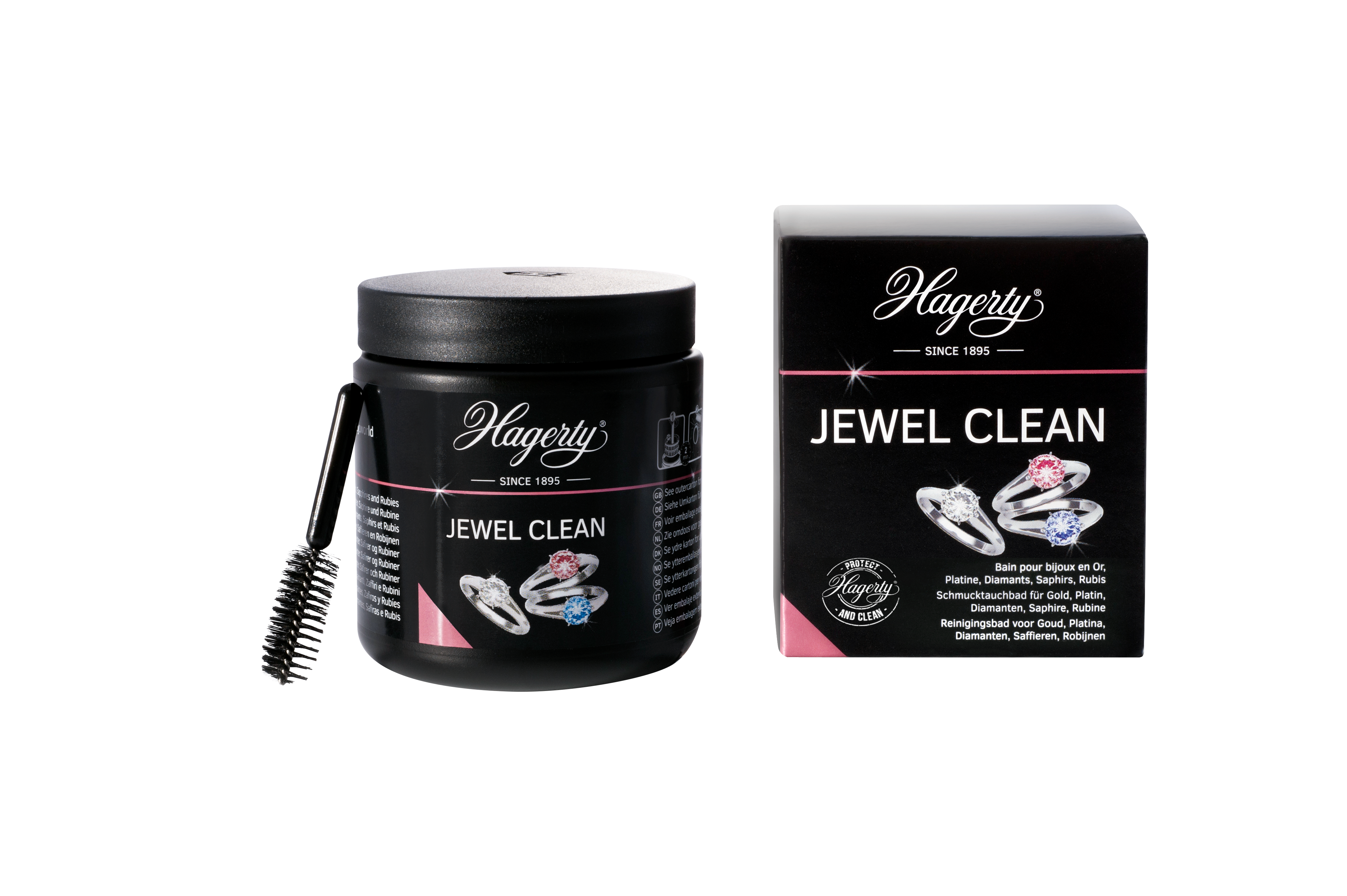 When you are not wearing your jewellery, we advise you to store it in a jewelery box, soft bag or in the original packaging to protect it from oxidation and wear. 


White gold rhodium plating
A silvery appearance is what makes white gold jewelry so attractive. To make the gold white, it is combined with metal alloys that are naturally white, such as palladium. White gold is provided with a thin top layer of Rhodium. This ensures that the jewelry becomes bright white, which is preferred by most people. Although very strong, Rhodium can wear out over time. Plating is a simple process that can be done to restore the whiteness of jewelry.